At the College of General Studies, we understand that not all college students are the same. However, one thing all of our students seem to have in common is managing the demands of a busy schedule. Our face-to-face evening, Saturday, and online courses provide you with added flexibility, allowing you to learn on your terms.
Courses at CGS are offered in partnership with other schools and colleges at the University of Pittsburgh. The University's Class Search webpage features information on individual courses offered through CGS, the Dietrich School of Arts and Sciences, and the University Honors College, as well as related courses from the College of Business Administration and the Swanson Engineering School, among others.
CGS schedules a range of courses online and on campus each semester to meet both the academic needs and busy schedules of our diverse students. Students may enroll in a variety of course sections; including traditional day, evening, and Saturday options; as well as CGS online courses.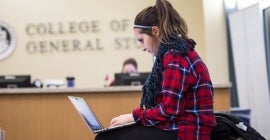 CGS On-Campus Courses
These courses are available at the Pittsburgh campus, located in Oakland. Our on-ground classes typically meet in the evenings or on Saturdays to accommodate the schedules of working students. Our face-to-face classes are usually capped in enrollment at 35 students. Most courses are three credits and meet once a week for two-and-a-half hours. (Courses including recitations or lab sections may have longer class times.)
CGS Online Courses
CGS Online provides students with the opportunity to earn credit towards degrees and certificates through two course formats. All courses offered through CGS Online are web-based, meaning that course materials can be accessed through the University's Learning Management Systems (LMS) such as Canvas and can be enhanced with the use of virtual meeting applications. CGS Online courses are offered in the following formats:
Web courses feature web-based instruction and interaction. Students interact with their instructors and other students through the LMS site. Students are required to participate in online discussions and activities. Course requirements must be completed within one term, and students move through the course materials as a cohort.
Hybrid courses combine web-based interaction and face-to-face instruction. Students are required to attend scheduled workshops and participate in online discussions and activities. Students complete the course requirements within one term and move through the course materials as a cohort.
CGS Online courses meet the same standards for academic rigor, content excellence, and expert instruction as our traditional classroom courses. Learn more
Note: While CGS courses are primarily developed and scheduled to meet the academic needs of CGS students, the majority of them are open to all University of Pittsburgh students just as many undergraduate courses throughout the University are open to College of General Studies students.*
*Academic requirements and restrictions differ by course. Students are encouraged to see their advisor for more information.
Searching for CGS courses
To search for CGS courses:
In the Class Search tool, once you have chosen your desired term, select: Campus: Pittsburgh Campus, Academic career: Undergraduate, and a subject.
Go to the drop-down menu called "Any Academic Organization" and select "College of General Studies."
Click search. If there are any courses offered by the College of General Studies for this subject, they will be displayed in Class Search.
For information on how to enroll, please visit the Course Registration page.