Students with a GPA of 3.5 or better planning to pursue graduate work at the University of Pittsburgh may want to consider the early admission options for graduate study. These options allow students to use their first twenty-four (24) credits of graduate work as the last twenty-four (24) free elective credits of their undergraduate program. The following graduate schools at Pitt allow this option in conjunction with the College of General Studies degree program: Graduate School of Public and International Affairs (GSPIA), School of Public Health, and the School of Law.
Note: Students interested in the early admission option for graduate study should contact their CGS advisor as soon as possible to discuss their intention and the process that needs to be followed. 
CGS Guidelines
Must be superior graduate school candidates and be admitted to the Pitt graduate program. Admissions requirements can be obtained from the graduate schools.
Must have completed a minimum of ninety-six (96) credits toward the CGS degree, including all general education requirements, and have no G grades, before the graduate program begins.

At least, the last thirty (30) of the ninety-six (96) undergraduate credits should be taken while the student is in residence in CGS, and before acceptance as a graduate student. Satisfactory completion of these requirements does not guarantee acceptance into the graduate program. This decision is made by the graduate program.
Students with a professional undergraduate major admitted to a professional graduate program are limited to 42 professional credits. Consequently, they should restrict their undergraduate professional credits to 18.
All other regulations governing the completion of credits for a CGS degree also apply.

The graduate program must include a minimum of twenty-four (24) credits of graduate-level coursework. Students must earn a B or better grade in all graduate coursework. (S or H grades in the MSL program)
Twenty-four (24) credits is the maximum number of graduate credits that can be used to fulfill free elective requirements of the undergraduate degree. A student may seek to use fewer than twenty-four (24) graduate credits toward their free elective credits if they have already partially fulfilled their elective requirements.
Note: Students who choose this option must be aware that enrolling as a graduate student may affect their financial aid package. Students are responsible for contacting the Financial Aid Office regarding this issue.
Graduation from CGS
Students must apply for graduation from CGS after completion of the first twenty-four (24) credits in their graduate program with grades of B or better. Students must have earned a total of at least 120 credits. 
The student will receive a B.A. or a B.S. degree depending upon the CGS major chosen. The final undergraduate transcript will specify the major completed in CGS.
The student's QPA for graduation from CGS will be calculated based solely on the credits earned while in CGS. Courses taken in the graduate program do not appear on the undergraduate record, but a notation will appear on the undergraduate transcript reading: "Baccalaureate degree awarded in conjunction with University of Pittsburgh graduate degree program."
Graduate School of Public and International Affairs 4+1 Accelerated Program
Early Admission Program for Pitt undergraduate students to complete their bachelor's degree while working on a master's degree at GSPIA. Once a student has completed 24 credits in GSPIA, they may apply and obtain their bachelor's degree. To be eligible undergraduate University of Pittsburgh students must be enrolled in The Dietrich School of Arts and Sciences or the College of General Studies, be in good academic standing with a minimum overall GPA of 3.5, have a minimum of 96 credits, have completed all Skills and General Education requirements and have no "G" grades. Questions? Contact Dr. Michael Rizzi at rizzim@pitt.edu.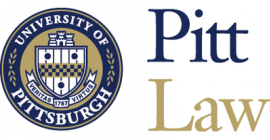 Master of Studies in Law Early Option
A unique opportunity for Law, Criminal Justice, and Society (LCJS) majors at the University of Pittsburgh to pair their LCJS BA with a Master of Studies in Law (MSL) from the Pitt School of Law.
Students who maintain a minimum GPA of 3.5 and who are majoring in Law, Criminal Justice, and Society, whether through the College of General Studies (CGS) or Dietrich Arts & Sciences (DSAS), may obtain the MSL degree in a program in which credits obtained in the MSL program also count toward the bachelor's degree. Students must be admitted to the Master of Studies in Law program independent of their admission to, and progress in, CGS or DSAS. Students must also have completed at least 96 credits toward a CGS/DSAS degree before beginning the Master of Studies in Law program. Of those 96 credits:
The last 30 credits must have been earned in residence at CGS or DSAS.
All skills and graduation requirements must have been completed.
All LCJS requirements must have been completed, except for the 2 elective courses (30 of 36 credits).
The Elective component of the major (6 credits) will be waived; the first 6 credits of the Master of Studies in Law program will be deemed to have met this major requirement.
For further information on this unique opportunity, contact Wesley Hiers, Director of LCJS, Administration of Justice, and Legal Studies, at wjh16@pitt.edu.