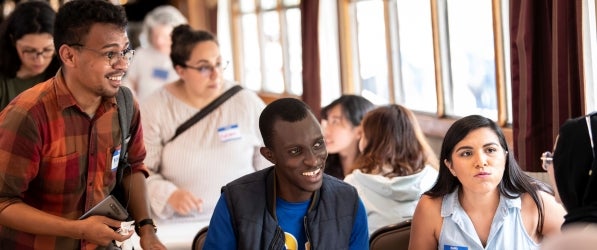 APPAM - Association For Public Policy Analysis & Management
Equity & Inclusion Undergraduate Fellowship
*The 2023 Fall Research Conference will be held on November 9th through the 11th in Atlanta, Georgia.
Are you interested in the professional field of government programs, and laws and regulations that address societal problems?  If so, a career path in Public Policy may be for you!
Applications are currently open for the Equity & Inclusion Undergraduate Fellowship for Public Service. In an effort to encourage participation by underrepresented students in APPAM and its activities, the Policy Council and APPAM's Diversity Committee created the 'APPAM Equity & Inclusion Fellowship' in April 2016. The recipients will be celebrated at our Annual Fall Research Conference in Atlanta this November.
The fellowship supports the travel and participation of up to 40 students from traditionally underrepresented backgrounds at the APPAM Fall Research Conference. While at the conference, the fellowship recipients will have the opportunity to formally network with each other and with members of the Policy Council and Diversity Committee, recognizing them, their accomplishments and bright futures. They will also have many opportunities to informally network with other students and professionals during the conference. The goal of this fellowship program is to introduce recipients to the world of public policy and APPAM, and foster a lifelong affiliation and engagement with both.
Application Deadline: May 31, 2023