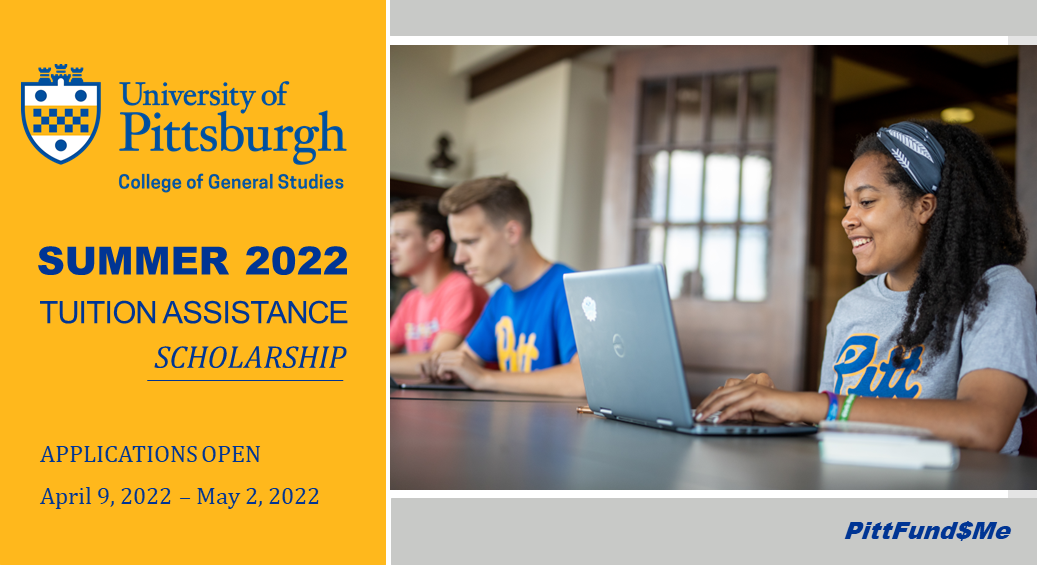 This award covers tuition and fees for one three or four-credit course for underrepresented students enrolled in the summer term. Student must be enrolled in a CGS bachelor's degree program, demonstrate significant financial need and have a FAFSA on file with the University, and have a minimum 2.0 QPA.
This award will be applied to the student financial account to defray the cost of tuition and fees for a three or four-credit summer course.
Eligibility Requirements
Applicants must:
Be from a traditionally underrepresented population, including first generation students and those from disadvantaged socio-economic backgrounds
Be enrolled in a Dietrich School of Arts and Sciences or College of General Studies degree program
Have completed a minimum of 12 credits at the University of Pittsburgh
Demonstrate financial need (and have a FAFSA on file with the Office of Admissions and Financial Aid for the current academic year)
Submit a one-page letter of interest
Currently be enrolled in or intend to enroll in an academic course (e.g. PEDC courses are not eligible for funding) during the upcoming summer term at the University of Pittsburgh (Pittsburgh campus)
How to Apply
Applications must be submitted through PittFund$Me. Instructions and the link to the application can be found here. Interested students should search for "Summer Tuition Assistance Scholarship."
Deadline
Apply by Monday, May 2, 2022.